Successful leadership
April, 2017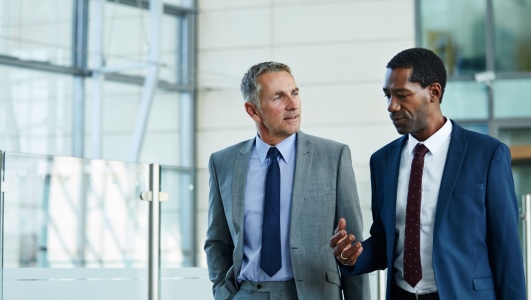 We are frequently reminded that Leadership styles have significant effects across all businesses. Regardless of whether an enterprise is small or among the world's largest corporations, Leadership styles are said to influence everyone from senior management to the newest graduate. The way in which managers and leaders makes decisions, delegate responsibilities and interact with employees fosters the corporate culture and impacts the entire organization and its performance.
We asked Brigit Egan, Joint Managing Director, The Oakridge Centre to share their perspective of what makes for successful leadership.
"No organisation can become great without exceptional leadership" says Egan "and this means developing leaders who can connect the efforts of teams and inspire trust."
Effective leadership eludes many people and companies – more often due to a lack of understanding about the precise leadership behaviours that deliver the best results.
So, what makes a good leader?
"At Oakridge, we firmly believe that successful leaders may act very differently even in similar situations and will often have quite diverse personalities. They will have a good combination of high self awareness and awareness of others and may use a variety of different techniques and leadership styles to get the best out of their people. These each need to be used in the right measure and at the right time to achieve the desired results."
Egan goes on, "the ability to combine these styles and put them into action is not always easy but can be learned and leadership skills can be developed and improved through group based training and one-to-one coaching in a group and one-to-one environment."
"We would argue that where there is faith in the abilities of a leader and their leadership skills, employees will look to them for a number of things," says Egan. "For instance during major change, employees will expect sensible planning, confident and effective decision-making, and regular, complete communication that is timely. When it is there, employees are more likely to see leadership as supportive, concerned and committed to their welfare, while at the same time recognising that tough decisions need to be made."
There will be a climate of trust between leader and the rest of the team which will deliver a more positive view of the future and makes coping with difficult change easier. Where there is poor leadership, employees expect nothing positive. It is more likely that there will be a climate of distrust and employees learn that leaders will act in unpredictable ways that don't necessarily seem to be in anyone's best interests.
"Poor leadership can result in an absence of hope and positive thinking, which, if allowed to continue can result in a non-functional organisation" warns Egan. "In such an instance a leader will have to deal not just with the practical impact of unpleasant change, but also with employees who have given up, have no faith in the company leadership or its ability to turn the organisation around."
Training leaders
Development through experience requires leadership skills to be given as much importance as learning the technical and administrative aspects of a job. Coaches and mentors can also help keep leadership at the forefront of the learning process. Leadership is not a mystery, however before people can become successful leaders they do need certain attributes. According to Kouzes and Posner there are five practices and ten commitments of leadership. Through research interview and the experience of hundreds of managers Kouzes and Posner have shown that leadership can be learned and mastered. The behaviours which they see serve as the basis for learning to lead are:
MODEL the way
• find your voice by clarifying your personal values
• Set the example – by aligning actions with shared values
INSPIRE a shared vision
• Envision the future by imagining exciting and rich possibilities
• Enlist others in a common vision by appealing to shared aspirations
CHALLENGE the process
• Search for opportunities by seeking new ways to change, grow and improve
• Experiment and take risks by constantly generating small wins and learning from mistakes
ENABLE others to act
• Foster team working by promoting joint goals and building trust
• Strengthen others by sharing information and power
ENCOURAGE the heart
• Recognise individual contributions by showing appreciation and admiration
• Celebrate team success as often as possible.
These attributes help to develop trust without which leaders will not command loyalty.
The learning curve for leadership doesn't stop however and is ongoing and leaders need to continue their development journey in order to be successful.
According to Marshall Goldsmith successful people often limit themselves with behavioural 'tics' that they don't even know they have and tend to assume that the behaviours that get them to where they are, will in time, get them further still.
Failing to see that in some instances success may have come in spite of behavioural flaws or that their behaviour is preventing them from realizing their potential will be their ultimate stumbling block.
Because their behaviour holds us back we can change our future by changing how we act. The secret here according to Goldsmith is learning to listen to what others say about our behaviour and focus on helpful advice about things we have the power to change.
Egan concludes, "A good leader will inspire, infuriate and challenge. They provide a calm centre in the midst of crisis and manage to convey the feeling that everything is under control. A good leader has the ability to stay focused while at the same time see the big picture. Perhaps most importantly a good leader recognises the potential in others and then takes it one step further and helps those around them realise their own."
For further information click here to visit The Oakridge Centre – Providing training and consultancy for organisational and people development