Creating a coaching culture that works
July, 2016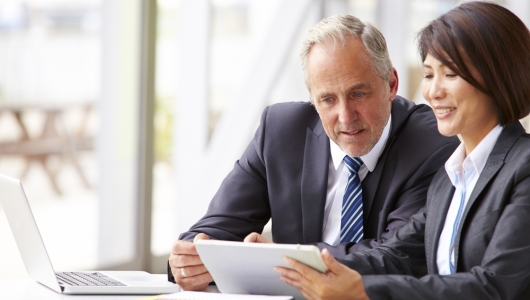 The UK's economy is growing at the fastest pace since the recession, yet organisations still face uncertainty. This is set to continue for the forseeable future and organisations must look within to grow and flourish. Enabling leaders and employees to succeed is a crucial part of ensuring competitive advantage. Those that realise their full potential can have a dramatic impact on financial performance, employee motivation and a whole host of other metrics within the business. 
Create an underlying mindset change
So how do you enable your employees to perform at the best of their abilities in the long term? Creating a coaching culture within an organisation is one of the best ways to create an underlying mindset change. This is much better than merely attempting to change how your employees behave. A mindset shift is far more permanent and has a domino effect by helping individuals change a raft of their behaviours. A leader who focuses just on, say, IT and their responsibilities in this part of the organisation is far less effective than one who considers their accountability for the whole organisation and how it operates and who then acts accordingly. Shifting the mindset of leaders can have a dramatic financial and strategic impact on the business and can help on the one hand eradicate inefficiencies or ineffectiveness and on the other promote growth and entrepreneurialism.
Whilst investing in leadership development can bring tangible business benefits, it is expensive in time, money and opportunity cost. Therefore, organisations implementing a coaching culture want to ensure that it is one that allows them to deliver sustainable impact and the benefits far outweigh any costs.
So what does this look like? The first cost that can be overcome is that of time. Integrating leadership development within the flow of work rather than delivering it in an off-site classroom environment increases its impact and effectiveness. Coaching employees in this way is consistent with real life challenges and thus adds more value to the business.
Often leaders have clear problems that they wish to overcome through development, such as managing their stakeholders or their team more effectively. Ironically for those looking in at senior leaders, one of the areas that leaders often struggle with is confidence. Many are still waiting to "be found out" and this can manifest itself in limiting behaviours, such as disempowering or controlling their direct reports. This can impact on the team as a whole, especially as one of the most cited reasons for leaving a company is the way that managers behave. Great coaching starts by identifying the problems that participants wish to overcome and ascertaining clear development objectives. However, this alone is not enough. Coaches must identify clear performance goals that fall out of these objectives so they can measure the impact and success of the training.
Set performance goals
Tracking performance has a positive effect on the individual and the company as a whole. Leaders throughout the organisation will have more confidence in coaching if they can measure the results and see if it has a tangible effect on the business. Tying development to performance goals or other measures also gives the participant clear reasons to change the way that they behave. If a leader focuses their efforts on retaining three large clients at risk and uses the development to help them do so, they have more impetus to achieve this goal. This ensures that participants are accountable for the return on coaching investment and it is clear to see if they are working to replace limiting behaviours and mindsets with liberating ones.
Keep open communication with management 
Coaching cannot be undertaken in isolation. Just as it is important to link development objectives and real world results, it is also crucial to involve the participant's manager in the training. While the coaching itself should be confidential in order to engender trust, setting up 'three way' meetings between the leader and his or her manager is critical. These sessions help coaches understand the manger's expectations and allows for leaders to get feedback and gain the organisation support that will help them to develop successfully. Meeting managers again further down the line, also helps maintain momentum and track the leader's progress.
When companies look to implement a development culture, they tend to focus on mid-to senior-tier level leaders as they are understandably seen to have the most impact on the business. However, these are not the only employees that will benefit from a coaching culture. It is often said that businesses are only as good as their best employee. In these uncertain times, many companies are seeking to ensure that all their employees are working at their full potential, not just their best employee. A well implemented coaching culture is undoubtedly beneficial for the business, including financially. But unless it is well structured, relevant and contextually useful, it will have less impact.
This article was written by Sharon Toye and originally published in Institute of Leadership & Management on February 17, 2015